The Ruby Earring of Benzibab is the 119th episode of Legends of the Hidden Temple. It was the 111th episode to be aired.
Moat Crossing
Both players must swing across the moat using a vine to reach an abandoned fishing net in the moat. Then, each of them must climb up and over the net to reach the other side and then ring the gong.
The Moat Results
Finish
Team
Time
1st
Orange Iguanas
0:49
2nd
Red Jaguars
0:55
3rd
Silver Snakes
0:57
4th
Green Monkeys
1:00
Steps of Knowledge
One of the richest and most powerful women in the history of Africa was Bilqis, the Queen of Sheba. In 900 BC, Balqis went to visit Solomon, the wise king of the Hebrews, bringing gifts. As she arrived in Jerusalem, the people stared in awe at her caravan, laden with gold, silks, and pearls. Legend has it Solomon was pleased and invited her in.
"Welcome, Queen Bilqis. What brings you to Jerusalem?"
"Things were dull in Sheba, so I thought I'd take a joyride and bring you gifts."
"You came 1,300 miles just to bring me some presents?"
"Tell you the truth, Sol, one of my spies warned me about a traitor in my midst and sent me a coded clue. You're wise, could you possibly decode it for me?"
"Shoot."
"Though blind to sight, I am appealing, Though deaf, I lean when you are hearing. So rhyme and find me by my ruby..."
"Earring!"
"Find me by my ruby earring. Hmmm..."
Her eyes moved around the room and landed on Benzibab, the queen's biggest bodyguard, who wore an enormous ruby earring. He leapt forward with a dagger, but before he could strike the queen, Solomon grabbed his arm and had him arrested. The queen gave Solomon the ruby earring as a token of her gratitude. Centuries later it made its way to the Temple. 
The Steps of Knowledge Results
Question
Choices
Result
What was the Queen of Sheba's name?
Green Monkeys (Correct - 2 Steps Left)
What king did the queen visit?
Silver Snakes (Correct - 2 Steps Left)
Which of these was Solomon the king of?
Green Monkeys (Correct - 1 Step Left)
What country was the homeland of the Hebrews?
Silver Snakes (Correct - 1 Step Left)
Did the Queen of Sheba bring Solomon?

A word of advice
Gold, silks, and Pearls

Red Jaguars (Correct - 2 Steps Left)
According to our legend, How far did Bilqis travel?
Silver Snakes (Wrong Answer - 1 Step Left)
Red Jaguars - Correct (1 Step Left)
Was Benzibab, Bilqis'....?
Silver Snakes (Correct - Advanced to the Temple Games)
What did Benzibab try to do to Bilqis?
Green Monkeys (Correct - Advanced to the Temple Games)
Temple Games
The Green Monkeys are Paula, who enjoys soapbox derby racing and plays piano, and Jason, who plays baseball and likes dirt bike riding. The Silver Snakes are Annie, who enjoys gymnastics and plays the violin, and Kevin, who enjoys basketball and drawing.
Gold, Silks & Pearls (Pop-Up Tunnel)
The Queen of Sheba's caravan was laden with expensive gifts for King Solomon and Annie and Paula were to unpack them. Before the girls was a caravan wagon filled with jewelry made of gold, pearls and emeralds. When Kirk gave the signal, each girl would crawl underneath and pop up at a hole to get the gem there; after grabbing the gem, they will seek out the match. If the next piece of jewelry they find matches the one they are carrying, they must take it back to their bucket. Otherwise, they must exchange the pieces of jewelry and search for matching of the second piece of jewelry. Whoever found all 3 pairs, or was furthest along within 60 seconds wins; both girls ended up with two matches each, tying them and giving both a half-Pendant.
Traveling to Israel (Spinning Platforms)
The Queen of Sheba traveled 1,300 miles on a camel, just to bring her gifts to King Solomon; fortunately, Jason and Kevin had their own wheels and they wouldn't have to go that far. When Kirk gave the signal, each boy had to climb up onto their wheels and adjust their weight to make the wheels spin, with each full rotation representing a mile. If either player fell off, the spotters would stop the wheel so they can get back on and start spinning again. The player who conquered the most countries in 60 seconds won; Kevin won 15-13, raising the Silver Snakes' score to one Pendant.
Bodyguard Bust (Bowling Slingshot)
Solomon struck down the traitorous bodyguard of the Queen of Sheba and the teams were about to do the same. Before each team were four traitorous bodyguards, and when Kirk gave the signal, one teammate would load the slingshot with a cannonball and fire at it to knock it down. Whoever knocked down all four bodyguards, or was furthest along within 60 seconds would win; the Silver Snakes won 3-2, giving them 2 Pendants and the right to enter Olmec's Temple.
Temple Games Results
Team
Game 1
Game 2
Game 3
Final Score
Green Monkeys
Tied
Lost
Lost
½ Pendant
Silver Snakes
Tied
Won
Won
2 Pendants
Temple Run
Annie went first, meeting a temple guard in the Crypt and very soon after, got taken out in the Tomb of Headless Kings. Kevin blazed along the bottom floor and grabbed the Ruby Earring with 1:24 left, racing out 22 seconds later.
Prize Plugs
Original Run

Moat Crossing: $50 Savings Bond for Melody Pops
Steps of Knowledge: Moon Shoes by Hart Enterprises
Temple Games: Aiwa Radical Headphone Stereos
Alternate Version

Moat Crossing: $50 Savings Bond for Melody Pops
Steps of Knowledge: Jet Set Clothing
Temple Games: Hush Puppies Footwear
Watch Episode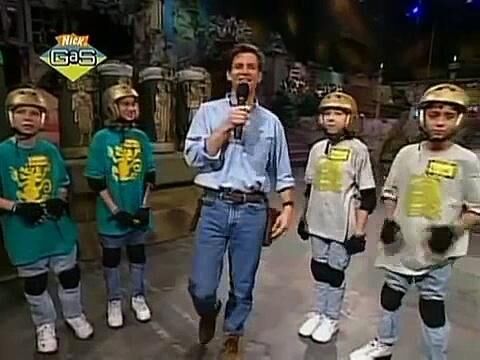 Notes